Overview

I'm looking for Scala developer roles, where I can remotely work from Japan. If your system is mainly based on Akka, written in Scala, I could be a candidate for your team. I am familiar with Akka/Scala especially about the core behavior of Akka Actor and Akka Streams. I could help in implementating Akka-based systems efficiently, avoiding common pitfalls to cause maintenance burden.

Unfortunately it's difficult for me to move outside Japan, but in terms of timezone/work hours I am fully flexible. I can work in hours your local team members are working.

For the compensation, it would be great if you pay more than 100k USD / year.

If you are interested, please DM me via Twitter (I accept DM from anyone), or send a mail to richard.e.imaoka@gmail.com .
Other skills than Akka
My interests
Private work
Work history
Web-service company - notebook management service for corporate users, May 2018 to present (less than 1 year)
Responsible for the server side in Scala. The server side is fully based on Akka HTTP and written in Scala. It's written in a traditional transaction-script style, and the main database is MySQL. ElasticSearch is used only for text search in the bodies of notebooks, while the source-of-truth data is still kept in MySQL.
Online payment service company, Jun 2017 to Apr 2018 (less than 1 year)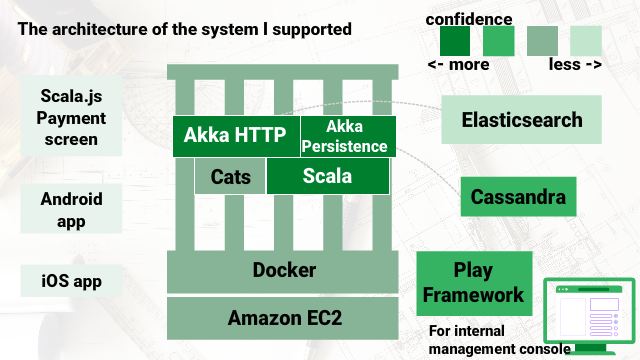 I wanted to turn into a professional Scala developer after contributing to Akka occasionally for about a year, so I moved to this company.
The company's main system was build on Scala/Akka and I worked in a team responsible for the core processing of payments. In terms of projects, I was involved in few-month-worth refactoring effort for the core payment processing, and development of new payment features.
It was good experience for me working on an Event-Sourced system using Akka Persistence with Cassandra, and I learned how Event-Sourcing can help investigation of issues.
Large investment bank, Apr 2008 to Jun 2017 (9 years)

I was in multiple technology teams supporting internal trading and sales applications in Fixed Income and Derivatives area. The infrastructure heavily relied on a legacy in-house database technology and the in-house programming language dedicated for development on the database infrastructure. I mainly learnt about coordination with non-engineer people, troubleshooting in a time-pressured environment, workaround (and frequently compromises with …) of the legacy systems. Development projects ranged from single-developer work (most projects fell into this category) to company-wide projects typically due to regulation reforms in the financial industry after 2008, bankruptcy of Lehman Brothers.