Trello dashboard using Bootstrap and JQuery
<

html

>

<

head

>

<

title

>

A Trello Dashboard

</

title

>

<

link

rel

="

stylesheet

"

media

="

screen

"

href

="

http://maxcdn.bootstrapcdn.com/bootstrap/3.3.5/css/bootstrap.min.css

"

>

</

head

>

<

body

>

<

div

class

="

container

"

>

<

h1

>

Trello Dashboard

</

h1

>

<

form

class

="

form-horizontal

"

id

="

boards_form

"

>

<

div

class

="

form-group

"

>

<

label

class

="

control-label

"

>

Choose your board

</

label

>

<

select

class

="

form-control

"

id

="

boards

"

>

</

select

>

</

div

>

</

form

>

<

div

id

="

labels

"

>

</

div

>

</

div

>

</

body

>

<

script

src

="

http://code.jquery.com/jquery-1.11.3.min.js

"

type

="

text/javascript

"

>

</

script

>

<

script

src

="

https://api.trello.com/1/client.js?key=[AppKey]

"

>

</

script

>

<

script

type

="

text/javascript

"

>

var

loadedBoards

=

function

(

boards

)

{

$

.

each

(

boards

,

function

(

index

,

value

)

{

$

(

'#boards'

)

.

append

(

$

(

"<option></option>"

)

.

attr

(

"value"

,

value

.

id

)

.

text

(

value

.

name

)

)

;

}

)

;

}

;

var

loadBoards

=

function

(

)

{

//Get the users boards

Trello

.

get

(

'/members/me/boards/'

,

loadedBoards

,

function

(

)

{

console

.

log

(

"Failed to load boards"

)

;

}

)

;

}

;

var

loadedLabels

=

function

(

labels

)

{

$

.

each

(

labels

,

function

(

index

,

label

)

{

var

label

=

$

(

"<p><span class='badge' style='background:"

+

label

.

color

+

";'>"

+

label

.

uses

+

"</span> "

+

label

.

name

+

"</p>"

)

;

$

(

'#labels'

)

.

append

(

label

)

}

)

;

}

;

$

(

'#boards'

)

.

change

(

function

(

)

{

var

boardId

=

$

(

"option:selected"

,

this

)

.

val

(

)

;

$

(

'#labels'

)

.

empty

(

)

;

Trello

.

get

(

'/boards/'

+

boardId

+

'/labels'

,

loadedLabels

,

function

(

)

{

console

.

log

(

"Failed to load labels"

)

;

}

)

;

}

)

;

Trello

.

authorize

(

{

type

:

"popup"

,

name

:

"Trello dashboard"

,

scope

:

{

read

:

true

,

write

:

false

}

,

expiration

:

"never"

,

success

:

loadBoards

,

error

:

function

(

)

{

console

.

log

(

"Failed authentication"

)

;

}

}

)

;

</

script

>

</

html

>
Great snippet, thank you!
I have made it working but for one detail: the uses property of the label object is undefined:
I have tried accessing the API directly via Postman, and still no uses property (reference):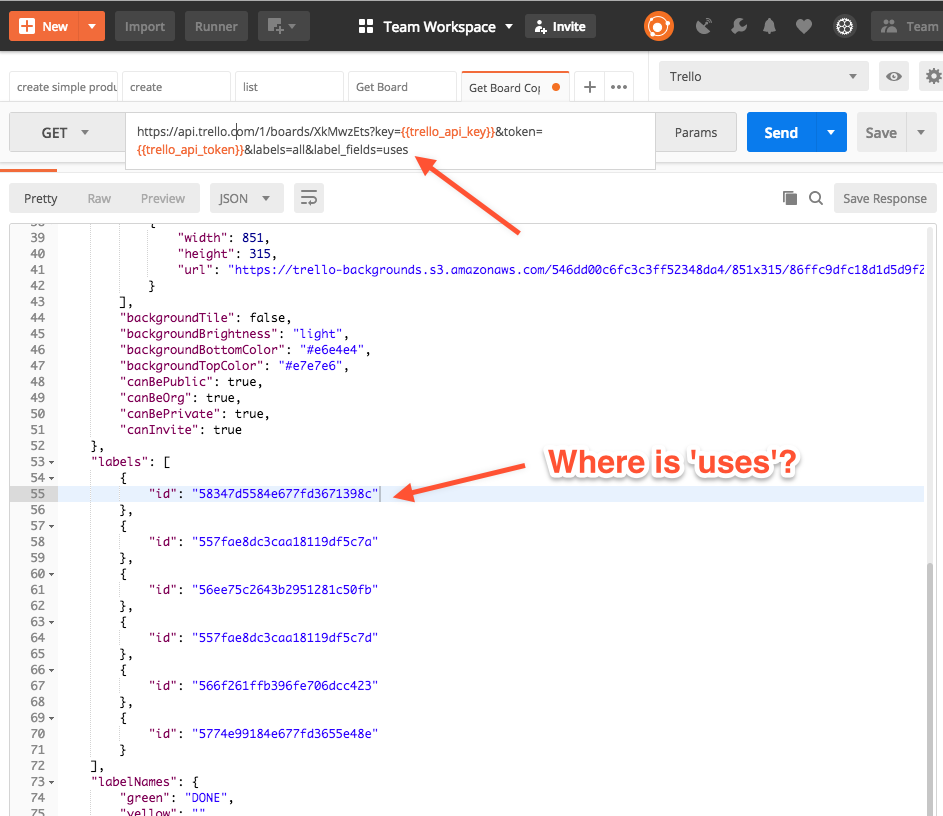 Am I doing something wrong, or maybe the API does not support anymore the uses property?
Thank you,
Guido
Can I pass an argument(containing the data) to the success function of Trello.get()?