My End Fed Half Wave Antenna (EFHW) for QRP/Backpack
Overview

After trying a variety of backpack-able antennas over the last year, I've settled on two types. The first of which is the off-center fed dipole (OCF). I used one for winter field day and operated several bands without a tuner. Since I had the extra time, and I was going to be in my operating location for the entire weekend, I placed the OCF between two trees. It's a great antenna but there's another I prefer over all others for backpack-able and portable ops. This antenna is the end-fed half wave (EFHW). The primary reason I pick this antenna is the ease of deployment. All I have to do is get the paracord over a tree and pull up one side to make it slope down diagonally.

The EFHW can operate on multiple bands without a tuner. I have several EFHW, one of which is a commercially built one from HyEndFed which supports 40m/20m/15m/10m with 100 watts, again, all without a tuner. Weight is the most crucial when I'm operating just out of my backpack. For this reason I'm writing about the QRP Guys EFHW kit, how I constructed it, and the results I got.
Specifications
Handles 10 watts
No tuner required for 3 bands
Good SWR on 40m/20m/10m
Not good but possible on 15m
Weight (without coax): 91 grams
7.6 meters coax to act as a counterpoise
Materials
QRPGuys Portable No Tune End Fed Half Wave Antenna - $20
7.6m (25 ft) LMR195 Coax with BNC Connectors
NTE Electronics WH26-00-100 Hook Up Wire, Stranded, Type 26 Gauge, 100' Length, Black - $15

26 AWG
External Diameter: 1.549mm
Available at Amazon
Construction

For reference I attached the QRP guys circuit. The construction is pretty simple. I started by cutting 20 meters of wire. I used a pair of wire cutters to cut one end of the wire and attached it to the nut on the QRP Guys assembly. I made a loop out of the other end and crimped it. I took it out to the park and threw it up into the tree and made final adjustments using an antenna analyzer. I feel the final length is actually more like 19 meters.

The QRP Guys EFHW Circuit
Assembled
In the field

Here I deployed the EFHW about 15 meters up into the tree. I try to get the high end at least 10 meters high and the low end around 1-2 meters off the ground.
Note: The two holes below the nut are to feed the wire to relieve strain
SWR Results

Here are the SWR measurements taken from my Icom IC-705.

40 Meters
20 Meters
15 Meters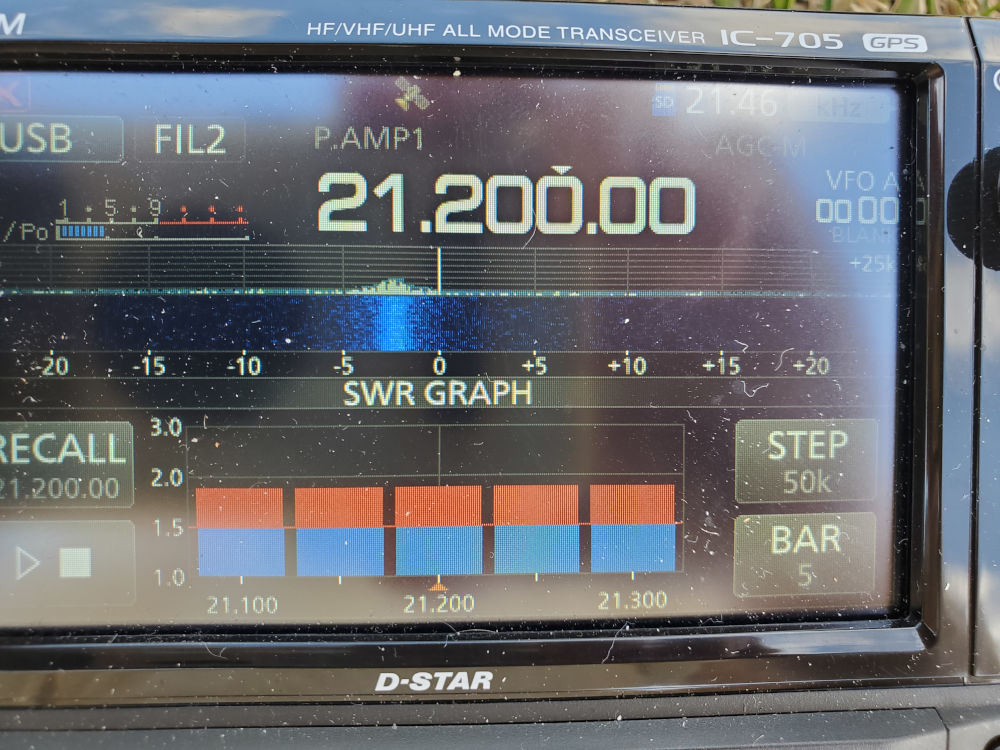 10 Meters