The 𝘖𝘷CWD framework was developed in collaboration with the Missouri Department of Conservation. Our overarching objective was to provide a collaborative, decision-making tool to inform the design of rational, locally relevant CWD surveillance & control strategies.

https://www.sciencedirect.com/science/article/abs/pii/S0304380019304272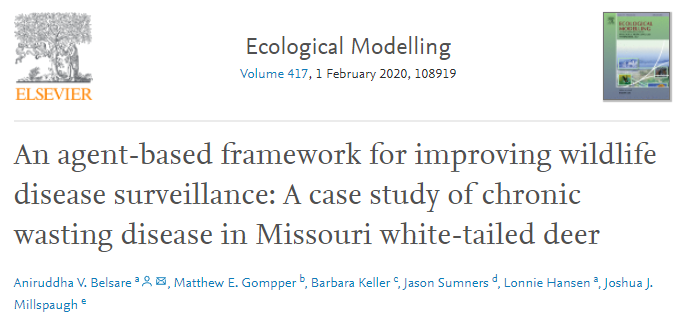 Unrealistic assumptions (baseline scenario) underpining CWD surevillance programs overestimate CWD detection probabilities compared to the realistic assumptions (alternate scenario):
---
portable and customizable, Missouri & Michigan versions were published in 2020. In collaboration with the Michigan Department of Natural Resources, Chad Stewart and Aniruddha Belsare evaluated locally implementable CWD control strategies relevant to Michigan using the 𝘖𝘷CWD framework: http://ow.ly/BwUt50HHw1t
𝘖𝘷CWD models are
---
𝘖𝘷CWD modeling frramework can be used to evaluate management strategies. For example, how does Antler Point Restriction (APR) affect the spread and establishment of CWD in a region?
---
Atle Mysterud, Hildegunn Viljugrein, CM Rolandsen & Aniruddha Belsare further adapted the modeling framework to simulate CWD surveillance in the Norwegian reindeer populations:
---
𝘖𝘷CWD (𝑶𝒅𝒐𝒄𝒐𝒊𝒍𝒆𝒖𝒔 𝒗𝒊𝒓𝒈𝒊𝒏𝒊𝒂𝒏𝒖𝒔 Chronic Wasting Disease) agent-based modeling framework is now available for 𝐈𝐧𝐝𝐢𝐚𝐧𝐚!
CWD spread pattern in the Kankakee River Valley (Indiana) white-tailed deer population over 25 years. Each patch represents 1 square mile area, the number indicates current CWD+ individuals on the patch, orange colored patch is where CWD was first introduced, and yellow colored patches currently have or have had CWD+ individuals in the past.
Projected CWD trajectory for the Kankakee River Valley white-tailed deer population (Indiana) over 25 years: no intervention scenario.
Jonathan Brooks, PhD candidate @PurdueFNR is leading the effort to employ the 𝘖𝘷CWD framework for investigating CWD mitigation strategies for Indiana white-tailed deer populations. Advised by Pat Zollner, Joe Caudell (INDNR) & Aniruddha Belsare:
---
In this perspective piece, researchers & managers illustrate how 𝘖𝘷CWD modeling framework can be used to adaptively position CWD management ahead of the progressing CWD front: