View repeatable-fields-metabox.php
This file contains bidirectional Unicode text that may be interpreted or compiled differently than what appears below. To review, open the file in an editor that reveals hidden Unicode characters. Learn more about bidirectional Unicode characters
<?

/**

* Repeatable Custom Fields in a Metabox

* Author: Helen Hou-Sandi

*

* From a bespoke system, so currently not modular - will fix soon

* Note that this particular metadata is saved as one multidimensional array (serialized)

*/

function

hhs_get_sample_options() {
View unfave.rb
This file contains bidirectional Unicode text that may be interpreted or compiled differently than what appears below. To review, open the file in an editor that reveals hidden Unicode characters. Learn more about bidirectional Unicode characters
#!/usr/bin/env ruby

require

"rubygems"

require

"twitter"

require

"json"

require

"faraday"

# things you must configure

TWITTER_USER

=

"your_username"

# get these from dev.twitter.com
View README.md
Sans jQuery
Events
// jQuery




$

(

document

)

.

ready

(

function

(

)

 

{


  

// code




}

)
View langoliers.rb
This file contains bidirectional Unicode text that may be interpreted or compiled differently than what appears below. To review, open the file in an editor that reveals hidden Unicode characters. Learn more about bidirectional Unicode characters
require

"rubygems"

require

"twitter"

require

"json"

# things you must configure

TWITTER_USER

=

"your_username"

MAX_AGE_IN_DAYS

=

1

# anything older than this is deleted

# get these from dev.twitter.com

CONSUMER_KEY

=

"your_consumer_key"
View hack.sh
This file contains bidirectional Unicode text that may be interpreted or compiled differently than what appears below. To review, open the file in an editor that reveals hidden Unicode characters. Learn more about bidirectional Unicode characters
#!

/usr/bin/env sh

#

#

#

This is script with usefull tips taken from:

#

https://github.com/mathiasbynens/dotfiles/blob/master/.osx

#

#

install it:

#

curl -sL https://raw.github.com/gist/2108403/hack.sh | sh

#
View hugofastsearch.md
Super fast, keyboard-optimized, client side Hugo search

This is a fork of and builds upon the work of Eddie Webb's search and Matthew Daly's search explorations.

It's built for the Hugo static site generator, but could be adopted to function with any json index compatible with Fuse fuzzy search library.

To see it in action, go to craigmod.com and press CMD-/ and start typing.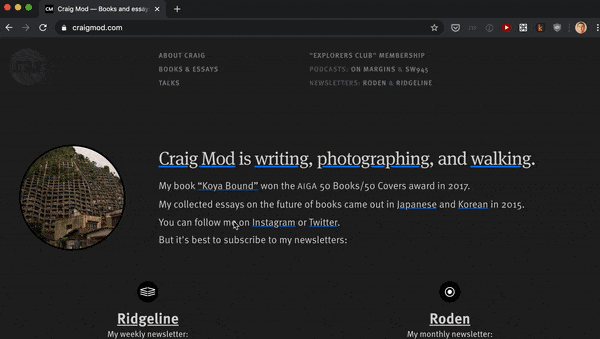 View basicServiceWorker.js
This file contains bidirectional Unicode text that may be interpreted or compiled differently than what appears below. To review, open the file in an editor that reveals hidden Unicode characters. Learn more about bidirectional Unicode characters
'use strict'

;

// Licensed under a CC0 1.0 Universal (CC0 1.0) Public Domain Dedication

// http://creativecommons.org/publicdomain/zero/1.0/

(

function

(

)

{

// Update 'version' if you need to refresh the cache

var

staticCacheName

=

'static'

;

var

version

=

'v1::'

;
View gist:4266129
This file contains bidirectional Unicode text that may be interpreted or compiled differently than what appears below. To review, open the file in an editor that reveals hidden Unicode characters. Learn more about bidirectional Unicode characters
#

If browser doesn't support placeholders, take the placeholder text and set it as the field's value

unless

Modernizr

.

input

.

placeholder

$

(

"

input[placeholder]

"

).

each

(index, element)

->

$

(element).

val

(

$

(element).

attr

(

"

placeholder

"

))